Product Description
 The important nutrients in Goji berries improve cell communication and have antioxidant as well as anti-inflammatory properties. These substances have been shown to increase mitochondrial function and detoxification. It has also been shown that nutrient dense foods such as Goji berries are far superior to supplementation with isolated nutrients contained in juices, capsules or tablets.
The Goji Berry - Lycium Tibeticum/Chinensis variety is used in Chinese Medicine to bring tonic and immune building strength to formulas that include other botanicals. Because of its neutral and sweet energetic properties it is suitable for use in many healing formulas that treat both hot and cold disease etiologies, and is also used as a food source both fresh and dried.
FAQ: The ways of how to distinguish Zhongning goji berries
Answer: First of all, the shape of Zhongning Goji is long and elliptical, while the other Goji berries not produce from Ningxia usually is round or elliptical, oblate; Second, the color of Zhongning Goji berries is red or fuchsia; Third, the Zhongning Goji berries has obviously white hilum,and its apex body has a small tip; Fourth, it will be agglomerated after squeezing,but Zhongning Goji berries agglomerate loose 
immediately after patting,others won't be loosed easily; Fifth, putting a little Zhongning Goji berries into cup with water and it won't be sunk at once, but the other will sink at once; Sixth, chewing the Zhongning Goji and tasting, you will feel sweet but not greasy, pure taste slightly bitter, without any peculiar smell, and it will last scent.
FAQ: Why does Zhongning Goji has unique qualities?
 Answer:  First, Zhongning area belong to Yellow River alluvial plain, whose area with rich and much mineral elements; Second, Zhongning Goji was irrigated by Yellow River water and liupan Mountain Qingshui River whose water is weak alkaline water and with rich mineral elements; Third, Zhongning area belong to  Inner Mongolia Loess Plateau north temperate continental climate,full day and night temperature difference is big, sufficient light, the lack of rain, the phonological  period is long, so there are good for Goji berries planting and assure rich nutrients in Zhongning Goji berries.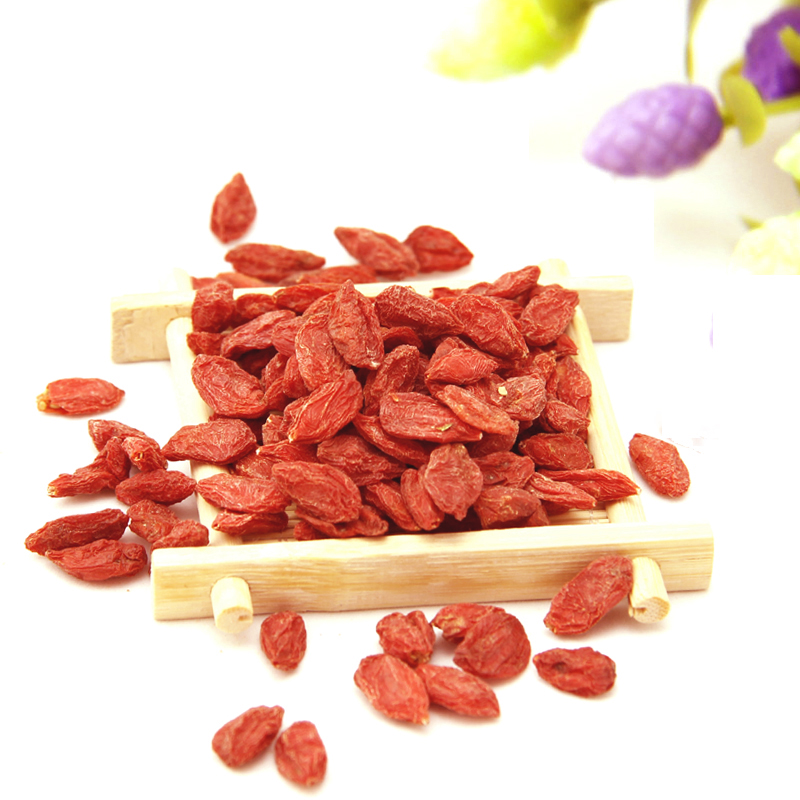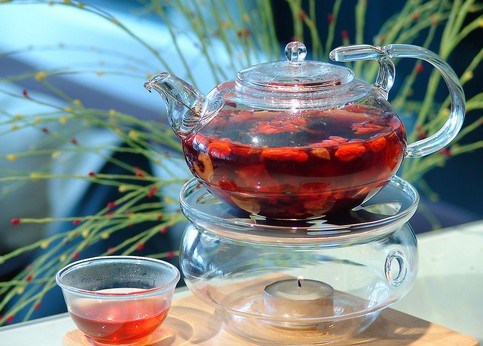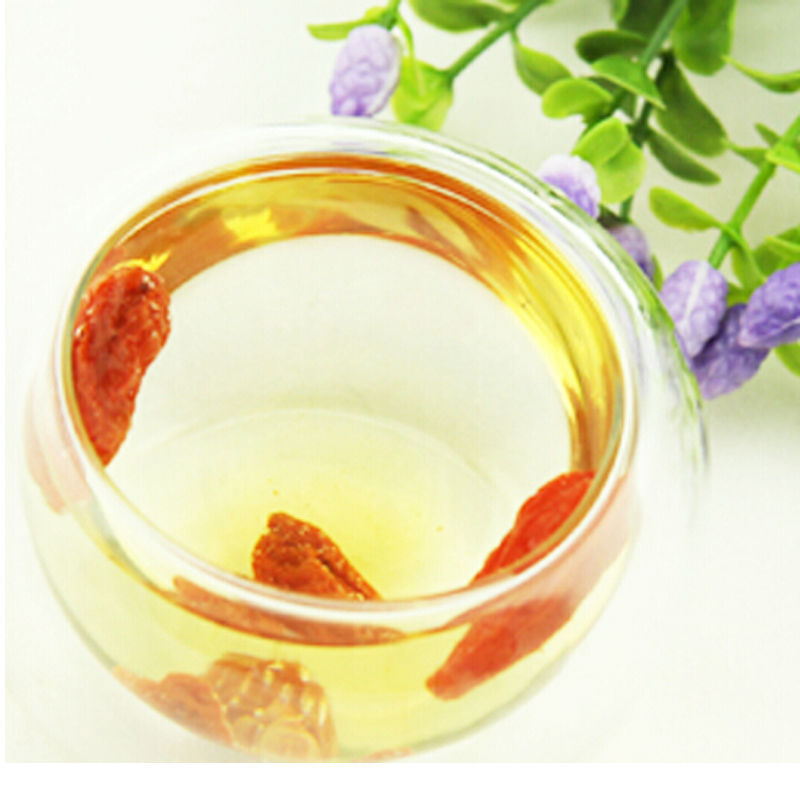 Goji berries have been in use for at least the last 1,700 years. They have become a staple in not only in Eastern cuisine, but also Eastern medicine.
In Chinese mythology, goji berries are known as the fruit of immortality. Even today, Chinese medicine uses goji berries to treat the liver, immune system, circulation problems, and more.
Known as: Goji Berry, Goji Berries, Gojiberry, Gojiberries, Western Snowberries, Wolfberry, Wolfberries, Wolf Berry, and Wolf Berries
The  nutritional composition in Goji berry (in 100g)
| | | | |
| --- | --- | --- | --- |
| Composition | Dried Goji  berry | Composition | Dried  Goji  berry |
| Moisture(g) | 12.0 | Ash  content(g) | 3.16 |
| Crude fats(g) | 7.14 | Crude  protein(g) | 12.10 |
| Carbohydrate(g) | 57.82 | Crude  fiber(g) | 7.78 |
| Quantity  of  heat(kcal) | 343.9 | Calcium(mg) | 112.5 |
| Phosphorus(mg) | 203.1 | Iron(mg) | 8.42 |
| Carotene(mg) | 7.38 | I-hydroxide lutein(mg) | 10.05 |
| Thiamine(mg) | 0.153 | Riboflavin(mg) | 1.27 |
1) Anti-Aging Superfood - Goji berries are considered the world's most powerful anti-aging food. They're rated #1 on the ORAC (Oxygen Radical Absorbance Capacity) scale, which measures the antioxidant level of foods. Antioxidants fight free radical damage associated with diseases and premature aging. Dried goji berries contain 3x the antioxidants of pomegranates!
2) Protect Eyesight - Goji berries contain two key nutrients that support vision: lutein and zeaxanthin. Studies show that consuming high amounts of lutein and zeaxanthin lowers the risk for developing age-related macular degeneration, cataracts, and other eye diseases.
3) Promote Skin Health - The vitamins in dried goji berries can give your skin a healthy, youthful glow. The rich content of vitamin A, vitamin C and zinc naturally occurring in goji berries helps to improve skin tone and texture. Research suggests that vitamin C and zinc act as antioxidants to lessen the harmful effects of UV radiation on the skin.
4) Boosts Immune System - Goji berries contain even more vitamin C per 100g than oranges. They are also high in the trace element selenium, which fights bacterial and viral infections. Adding a small handful of dried goji berries to hot teas or soups isn't a bad idea when the cold and flu season hits.
5) Good Source of Amino Acids - Goji berries contain 18 amino acids, including all eight essential amino acids. Our bodies use this combination of amino acids to build the proteins it needs. Since we cannot synthesize essential amino acids from scratch, we must obtain them through our diet.
6) Liver & Kidney Benefits - A compound found in goji berries called betaine, is used by the liver to produce choline. Choline supports the liver and kidneys by helping them expel toxins and waste from the body.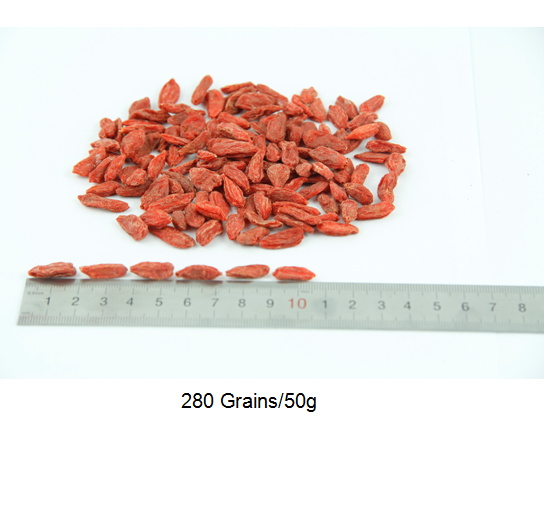 1) Snacking delight - Dried goji berries have a mild sweetness and are slightly chewy, which makes them perfect for snacking. These super berries are ready to be enjoyed straight out of the bag! You can also add them to trail mix with other Dried Fruit and nuts.
2) Teas, smoothies & other beverages - Reconstitute goji berries by soaking them in warm water for 5 to 10 minutes, until they become plump and chewy. When the goji berry is reconstituted, it takes on a hearty sweetness and is wonderful in beverages.
3) Breakfast foods - Mix goji berries in oatmeal or cereal for an energizing boost. Layer them in yogurt for a new kind of parfait. Goji berries are also a delicious addition to granola bars and baked goods.
4) Soups & salads - Dried goji berries are commonly used in Chinese herbal soups to boost the nutrient content. You can add them to your own soups and broths. Alternatively, toss them over salads for a nice crunch.
5) Grain dishes - Add dried goji berries to quinoa, rice, couscous, and other grain recipes. The super-berries lend little bursts of nutrition and sweetness to your dishes. Buy goji berries in bulk so that you'll have plenty to incorporate into your favorite foods.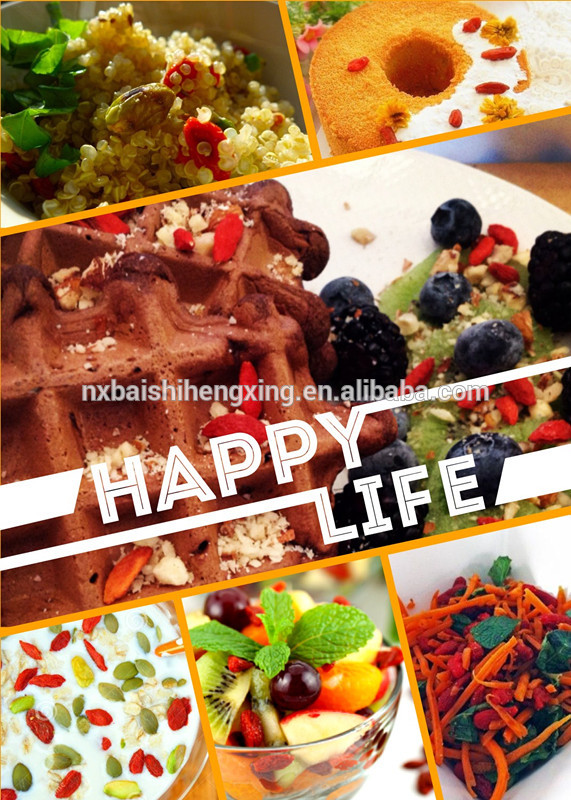 Dried Goji Berry
Size

280  grains/50g

Packing

Inner Packing:5kg Aluminum Foil Bag

Out Packing:20Kg Carton

Load

11.5Tons (1*20GP)

Delivery Time

10 working days
Thank you for trusting us and opening this page .We trust that our experience in foreign trade
and proficient knowledge of Goji berries/Chinese wolfberry/Chinese herbal medicine will enable
us to meet your actural requirements.
Retail is accepted , agent is welcome! We wish to start business with you in soon future.
Contact information
Contract Person:Colin Zhang (Sales Manager)
Mob:+86 13995277633
Tel:+86 951 8760812
E-mail:colin@gojihome.com
Skype:   live:335668292
Address:Medlar City,North Road,Zhongning County,Ningxia Autonomous Region,China
Goji berries Product Show
~~~~~~~~~~~~~~~~~~~~~~~~~~~~~~~~~~~~~~~~~~~~~~~~~~~~~~~~~~~~~~~~~~~~~~~~~~~~~~~~~~~~~~~~~~~~~~~~~~
 Ningxia Baishihengxing Food Technology Co.Ltd was founded in 2011.Our company is an professional manufacturer and supplier of various fruits series(Goji berry , dried jujube ,licorice, wolfberry tea, Black Goji Berry ).All of our products comply with international quality standards and well appreciated by their purchaser. In2014, we sold Goji berry more than 1000 tons. Besides, we have received Halal food and QS certification. 
As a result of our high quality products and outstanding customer service ,we have gained a global sales network. If you are interested in any of our products or would like to discuss custom order, please feel free to Contact us. We are looking forward to forming successful business relationship with new clients around the world in the near future.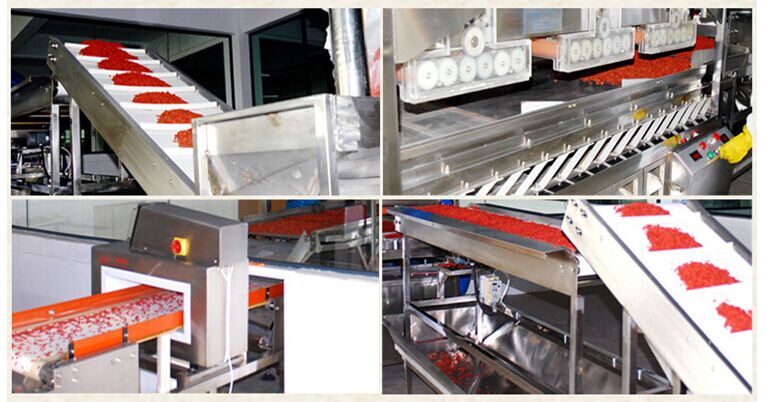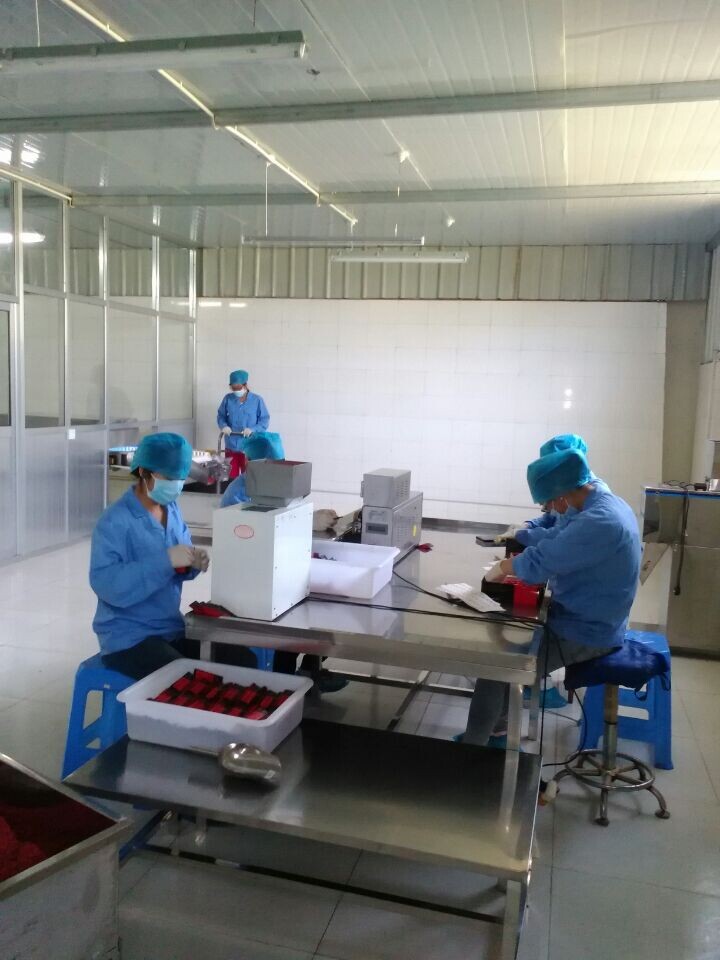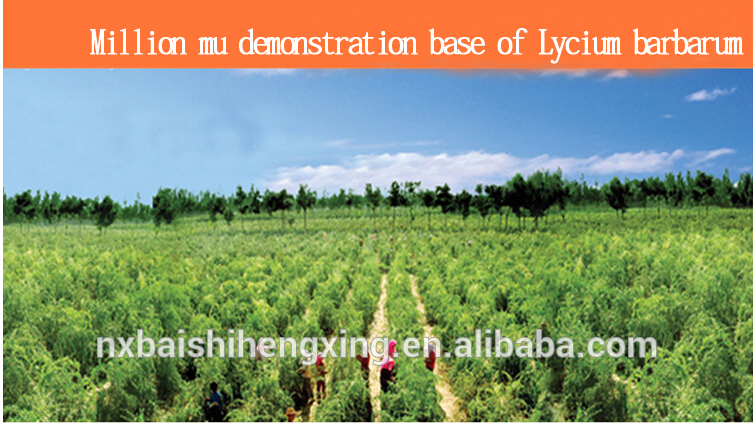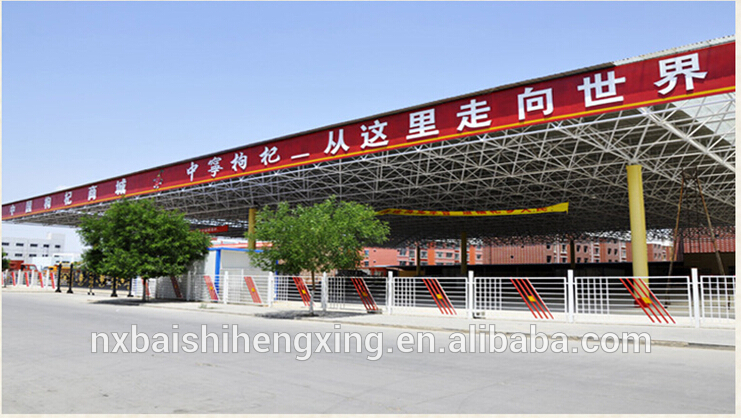 2015 Exhibition experience
1. The 1st Tajikistan (China) Ningxia investment trade negotiation and Ningxia specialty products trade fair
Time: 2015/5/17-2015/5/20
Place: Kohi Borbad State Exhibition Center, Dushanbe, Tajikistan
DUSHANBE, Tajikistan 2015/5/17-2015/5/20 -- The first exhibition on China's Ningxia Hui Autonomous Region took place here at Kohi Borbad State Exhibition Center
The exhibition is organized by Tajikistan's CCI and the government of the Ningxia Hui Autonomous Region. Over 55 companies from Ningxia participated in the exhibition
The exhibition aim to promote economic and trade communication and cooperation between China's Ningxia and the Central Asian country and build up a cooperation platform for enterprises of the two countries.
We took part in this specialty product trade fair and obtained many  customer's favor and got Goji berries order.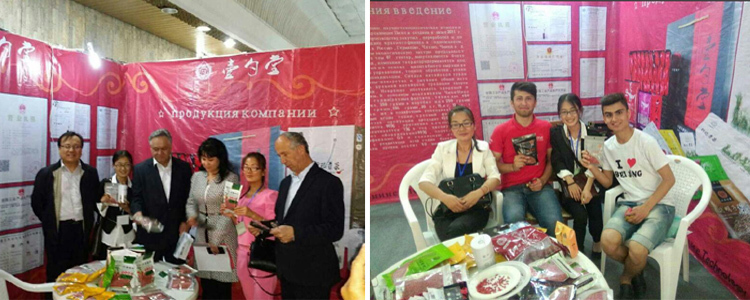 2.The 2nd China-Arab States Expo 2015
2015 China(Ningxia) Investment and Trade Fair
The China-Arab States Economic and Trade Forum
Time:2015/9/10-2015/9/13
Place: Yinchuan, Ningxia, China
Ningxia Yinchuan International Expo Center Hall
China-Arab States Expo, approved by the State Council of China, and co-sponsored by the Ministry of Commerce of People's Republic of China, China Council for the Promotion of International Trade, and the People's Government of Ningxia Hui Autonomous Region, is a national comprehensive expo with international participation.
We took part in Halal food fair and obtained purchase order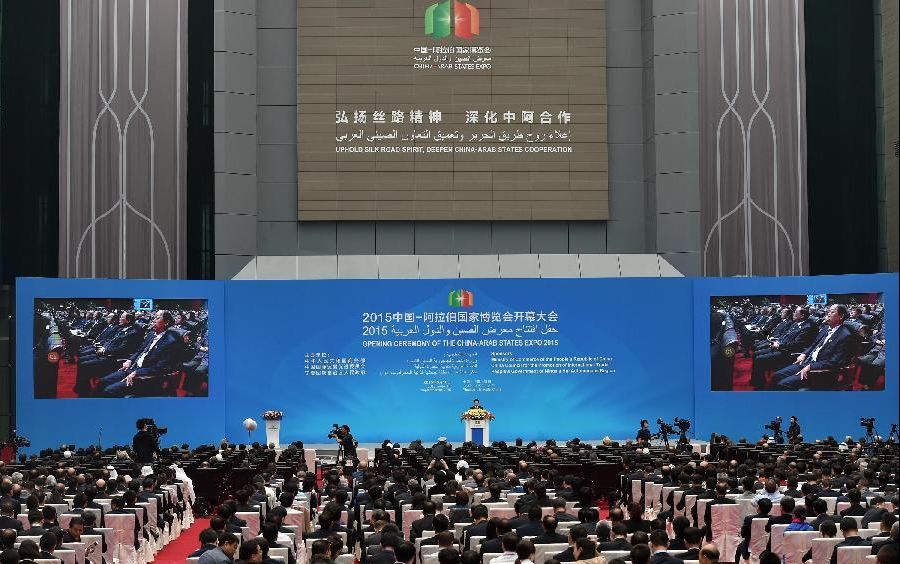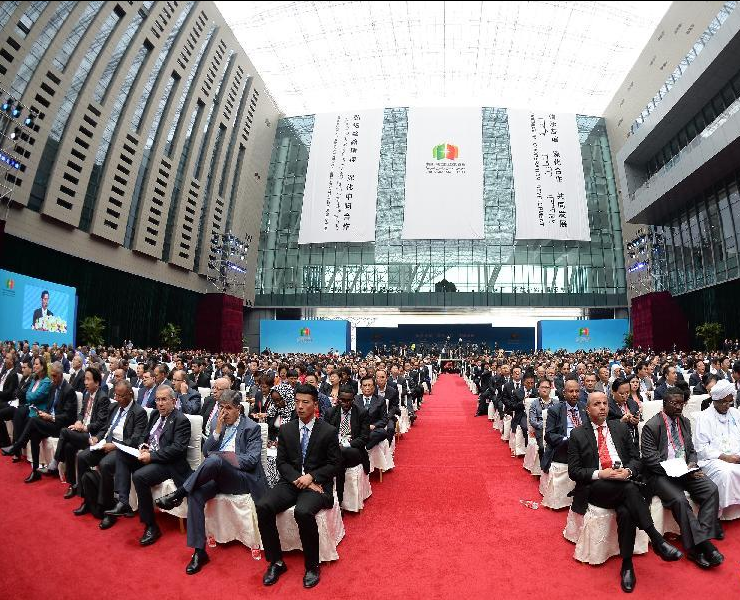 3.Anuga 2015
Time:2015/10/10-2015/10/14
Place: Cologne, Germany
Anuga is the world's leading food fair for the retail trade and the food service and catering market. Around 160,000 trade visitors from 192 countries attended Anuga in Cologne from 10 to 14 October 2015.We took part in this famous food fair, the booth number C-007 , and we obtained huge unexpected harvest.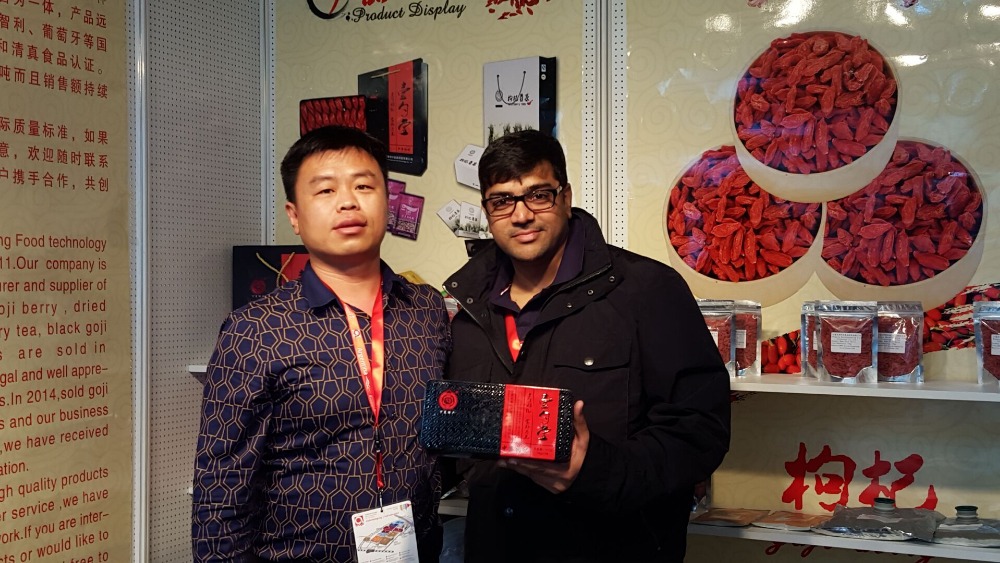 Contact us if you need more details on Goji Berry. We are ready to answer your questions on packaging, logistics, certification or any other aspects about Dried Fructus Lycii、Goji Berry. If these products fail to match your need, please contact us and we would like to provide relevant information.
Product Categories : Goji Berry > Red Goji Berry